Slush Puppy Machine
What better way to keep your cool on a hot summer's day than with an ice cold slushie? If you're a child of the 70's or 80's you no doubt remember the fabulous Slush Puppy brand (still in existence today) and the refreshing taste of blueberry, cola and even Frankenstein (Halloween limited editions rock!) flavour slushies! And if you're not familiar with the concept, just imagine the frostiest combination of crushed ice and delicious sweet juice blended perfectly together.
Recapture the Perfect Sunny Days of Your Youth
Now, if you've ever tried to get a slushie home before it melts, you'll know it's a near impossible feat! Thanks to the Slush Puppy Machine, you can now enjoy the retro taste of a slushie in the comfort of your own kitchen, living room or garden. If the sun has decided to put his hat on and you're feeling hotter than Beyonce on fire, a homemade slushie is just the thing.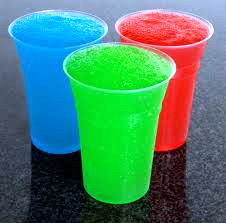 This classic looking Slush Puppy Machine will take pride of place on any kitchen worktop and when primed with ice and your favourite tipple it'll be ready when you are. Whether you are in the mood for a fruit syrup slushie, an iced coffee or even a frozen cocktail, the Slush Puppy Machine will churn out your favourite drinks at the touch of a button.
Take a look at these awesome features:
Use your favourite fruit juices or flavours
Easy-to-use dispenser
Simple to use
Easy to clean
Voltage 220-240v 50HZ
Wattage 20W
1 years warranty
Makes the Perfect Slushies Time After Time
The Slush Puppy Machine is so easy to use - perfect for when the sun has addled your brain and you're looking for a refreshing drink right now that requires very little effort! Simply load the large drum with ice, add a little table salt (this helps to perfect the ice crushing process) and the juice of your choice and voila! Sit back in awe as your Slush Puppy Machine churns out one seriously refreshing and delicious slushie made especially for you.
Frozen Cocktails Anyone?
Fancy something a little stronger? You've got it. The Slush Puppy Machine makes one serious frozen margarita. In fact, it can make any number of frozen cocktails so why not go a little crazy and try out your own blends? It's the perfect addition to any party, but watch out. Once your friends get wind that you've got the Slush Puppy Machine ready for action, they'll be dropping all kinds of weird and wonderful concoctions in!
Place Your Order and Gain Thousands More Friends Overnight!
Okay, perhaps not thousands more friends, but you'll certainly become more popular. Whatever slushie flavour takes your fancy this is one kitchen gadget that will never be confined to the gadget graveyard - the one where the Panini toaster, popcorn maker and waffle iron like to hang out. We're betting that for as long as the sun shines you'll be making your own slushies and quite right too. Enjoy!